A hidden gem for surfers seeking a unique experience away from the crowds, Krui is tucked away in the Indonesian Ocean on Southern Sumatra. The world's fifth largest island, it is home to a huge variety of plants and animals, including tigers, rhinos and elephants. Deforestation has caused almost 50% of its' rainforest to have been destroyed.
Even now, this is a place that is still not well-known, although the word is spreading, meaning stunning swathes of beautiful, crystal clear, tall waves.
Those in the know have been surfing in Krui for many years, to surf the huge waves that are here all year round. The best surf spots are quite a distance apart, meaning a drive of up to 45 minutes. Additionally, there is no surf map.
However, on arrival, the surf does not disappoint. When surfing in Krui, there are a wide range of waves, and a huge swell. Ujung Bocur offers amazing barrels and long, swift rides, from 200m.Way Jambu serves up a heavy, take-off into a top-to-bottom barrel. Krui Reefs provide long, rippable walls and the odd barrel. And that is just a few of the amazing surf spots on Krui.
The best swells are available between March and November. Surfers of all levels, from beginner to intermediate, are guaranteed to find something to suit them. Intermediate surfers can head to protected bays where the surf can reach over 1.5m.
If you want to come surfing in Krui, we have lots of great surf spots to offer. It is always a good idea to find out more about Krui before you come. Surfing in Krui can be a great option, especially if the crowds elsewhere get too much, or you just fancy some peace and quiet.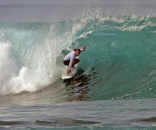 Read More »