Sumatra offers exciting waves, epic scenery and vast swells. Sumatra Surf is of a particularly high standard between the months of March and November, and a substantial number of quality surf packages have been made available to the public over recent years. You may be amazed to see just how spectacular the waves in the region are. What's more is that you should never struggle to find uncrowded quiet spots for surf whenever you need them.
Swells reach between 6-12ft between March and November and 3-6ft during the rest of the year. The Lampung district in the south of the region is a major hub for wave seekers. This district is where you'll find the town of Krui, which has surf spots on either side of it. Ujung Bocur (sometimes incorrectly called Karang Nyimbor) is a noted spot for surf. The Banyak, Hinako and Simeulue Islands are also ideal for surfers as well as explorers. You may well wish to head out on a charter boat if you wish to explore the region in style. There are various left and right handers on offer and waves to suit all types of surfing in the region.
If you are looking for accommodation in the region, Paradise Surf Camp could be for you. The Paradise Surf Camp team offer affordable single and double occupancy private bungalows providing epic views of the most spectacular wave in the Krui region. All bungalows are self-contained and feature a host of valuable facilities such as fans, locks, beds, mosquito nets, locks and porches looking out to the ocean. If you do have any special requests, you can simply contact the team to let them know beforehand. What's also great about staying at Paradise Surf Camp accommodation is that all your food is not only home-cooked by highly-experienced authentic chefs but is included in the price of the stay, giving you even less to worry about.
Other facilities include Wi-Fi and cell connectivity, 24-hour security services, a pool table, quality bathrooms and showers and much more. To find out more about Sumatra surf, contact Paradise Surf Camp today.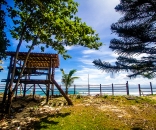 Read More »