Are you looking for a quality Krui surf camp? The Krui coastline in southern Sumatra offers some of the most impressive waves in the region, yet it's profile is much lower than it possibly should be. This is largely because the major surf zones are located some distance away from each other. Nonetheless, you shouldn't have to travel more than 45 minutes between them, and the region is ideal for those seeking uncrowded surf spots and sublime scenery.
If you are looking for quality Krui surf camp accommodation for your Krui trip, help is available. Paradise Surf Camp is home to a series of comfortable and well-facilitated single and double occupancy private bungalows that overlook some of the most elegant and spectacular wave in the region. The team are always on hand to assist you with any queries you might have, and facilities include mosquito nets, beds, fans, locks and small porches looking out towards the exquisite ocean. One of the biggest draws of the accommodation is that all food is cooked by highly-experienced and skilled chefs, and your dishes are included in the price that you pay.
Other facilities include Western-standard bathrooms and showers, Wi-Fi, round-the-clock security, a soothing lookout area and games options including pool and ping-pong tables. You can also stock up on beer, water, cookies and cigarettes at the store and order fruit juice from the bar. Motorbike and car rental can be arranged through the team, as can airport transfers.
The culinary options available include a range of authentic Indonesian and Western delights, and you can also get access to tea and coffee throughout the day for free. A night's stay at the camp costs just $25USD or approximately 300,000IDR depending on which currency you are using.
Some of the region's most popular surf spots include Ujung Bocur (AKA 'Karang Nyimbor'), Way Jambu, Jimmy's, the Krui Reefs, Honey Smacks and Mandiri. There is a great deal of information on the Paradise Surf Camp site that will help you plan your trip and make the most of your experience. Should you wish to get in touch with the team, you can do so via the contact form on the website.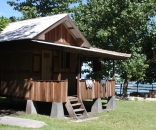 Read More »