There are many great reasons for discovering the surf in Krui first-hand. Krui is located in Southern Sumatra and is home to a range of exciting surf destinations which may be located a short distance away from one another but have to be seen to be relieved. The Krui region is wave-rich and offers a diverse series of surfing experiences. Paradise Surf Camp is ideally-situated for anyone wishing to explore the Krui coastline and is home to a number of spacious and comfortable bungalows.
The camp offers ample facilities to make your stay a safe, secure and comfortable one. The facilities are ideal for those wishing to escape the crowds whilst making the most of the exceptional waves on offer. What's more is that all your meals are included in the price you pay – which is less than $25USD per night. A substantial number of UK surfing connoisseurs have made the trip to the Krui region over recent years due to the increased exposure the area is benefitting from.
Stay at Paradise Surf Camp and you'll be just five minutes away from surf on foot. Wi-Fi and cell connectivity is of a high standard, whilst the shower and bathroom facilities are of Western quality. The camp is perfect for singles, couples and groups, and diners can enjoy highly-authentic cuisine based on locally-sourced ingredients. The camp is located in an area of excellent natural beauty, and there are waves to suit all experience levels in the region.
Waves of great consistency
The waves in Sumatra are amongst the most consistent in Indonesia, with some of the most exciting surf spots including Way Jumbu, Mandiri and Ujung Bocur. The camp is designed to make all guests feel completely at home whilst providing them with a level of freedom not offered by many other accommodation providers. Facilities include pool and ping-pong tables, big-screen TV and a watchtower where you can sample epic views of the waves beneath you. To find out more and speak to a member of the team today, just send an e-mail to [email protected] or use the contact form on the site.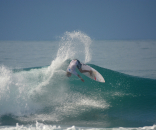 Read More »