People have been heading to Krui to explore the surf for many years, but the region has never attracted the crowds that tend to gather in other top surf zones for many reasons. One reason why Krui is one of the quieter surf environments is that there is some distance between the leading surf spots, and it can take up to 45 minutes to travel between them. Nonetheless, it's safe to say that those who are yet to visit Krui to sample the surf aren't unlikely to regret paying a visit to the region. The region is growing in popularity all the time, but not so much the crowds have become unbearable. Read on for more about surfing in Krui.
Krui is an area of South Sumatra that offers a diverse range of waves, pleasingly small crowds and vast swell. To make the most of your trip, it's best to research the area in depth and gain as much knowledge as you can in advance. Most surfers head to the region for around 10 to 14 days, and quality waves are available throughout the year. Even during the off-season, waves can reach almost two metres.
The region caters well for all surfers above beginner level, with some areas being suitable for novices. If you are an intermediate level surfer, you may wish to head to a protected bay when surf reaches over 1.5 metres. Sumatra is the world's fifth largest island and remains home to species including tigers, rhinos and elephants despite the deforestation that has taken place over the years. Temperatures normally range between 25-29 degrees and the best swells are available between around March to November.
The Krui coastline competes strongly with all other coastal parts of Indonesia when it comes to wave quality and consistency. Ujung Bocur, which is sometimes incorrectly called 'Karang Nyimbor', is one of the most popular surf spots in the region and is capable of providing 200m+ rides. This is the closest surf spot to the camps, which means it is normally the busiest. Way Jambu is an ideal match for experienced thrillseekers and offers a top-to-bottom barrel. Whilst it is known as 'absoluet evil' by local fishermen, surfers call it the 'The Sumatran Pipeline'. Find out more about surfing in Krui by browsing the Paradise Surf Camp website.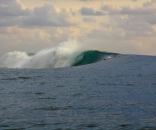 Read More »