Paradise Surf Camp is located in the wave-rich Krui region of mainland Southern Sumatra. Sandwiched between some of the most consistent and varied coastline in Indonesia and located literally in front of an epic lefthander, Paradise offers private, budget bungalows to traveling surfers looking for a real Indo trip. Escape the crowds, the packed boats, and the aggression and spend some time in the Indonesia you've always dreamt of. Good waves, uncrowded lineups, and excellent freshly cooked local and western food all for less than $30USD per night.
Learn More »
Paradise Surf Camp At a Glance
Beachfront accommodation
5-minute walk to surf
Wi-Fi & cell connectivity
Great for singles, couples & groups
Friendly staff, amazing food!
Unspoilt natural beauty
Epic, uncrowded surf!
Waves for most levels
Ensuite bathrooms
Un-Crowded, Un-explored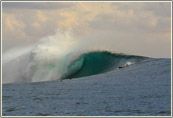 While the waves in Krui have attracted surfers since the '60s, the bigger name Indo destinations always seem to pull everyone in. Regardless, the waves in Sumatra are some of the most varied, consistent, and excellent in all of Indo. Top-to-bottom left barrels at Way Jambu, the world class beachies at Mandiri, or 200m lefts right in front of camp at Karang Nyimbor/Ujung Bocur. Whatever your preference, we've got it...
Learn More »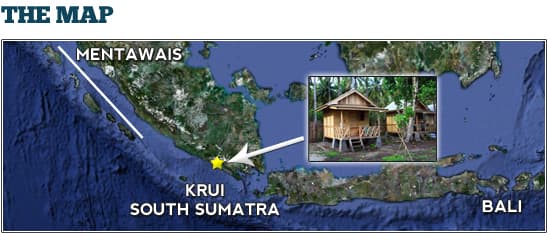 Also, make sure to check us out in the Garuda Orient Holidays Magazine!



"Thanks Widya! I can't imagine a better Indo trip. Clean and tranquil accommodation on a beautiful coastline with perfect and uncrowded waves. Was really a dream trip, can't wait to get back!
- Daniel, United States
Photo Gallery


















More Photos »